Work/life balance is very important to me – I'm a part-timer for various reasons, but I also definitely do better strategic work when I'm more rested, less stressed and generally feeling in control of my life.
Almost anyone who has worked in a decent sized agency will have experienced emails on Sundays, late nights at the office and enquiries as to whether your holiday booking is refundable. But it's obviously worse for some people than others – qual researcher's evenings frequently get eaten up by groups and depths, anyone working on a retail account can pretty much kiss goodbye to a nice long Christmas break…and then there's pitches.
Let's take a bunch of people who are already pretty busy at work and ask them to pull together a 12 month through the line creative and campaign backed up by solid strategy and fully costed – in two weeks. Although I love the can-do attitude of a pitch team and the freedom to just crack on with it without umpteen client meetings – put simply, pitching breaks people.
Clients seem determined that the only way to find a new marketing agency is to ask them to do twelve month's work in a couple of weeks – unpaid. They wouldn't ask six firms of accountants to run their P&L for free to see which set of numbers they preferred. I've never worked on a pitch which had less than three agencies involved and I worked on one that had nine, which means eight agencies spent time and resources on a major piece of work where the cost could never be clawed back.
This means that the old joke about an average pitch being Agency A's freelancers vs. Agency B's freelancers is rarely true – there's isn't enough room in the budget for that when the whole shebang is unpaid. So the agency team stretch themselves thinner and thinner and work later and later in an effort to deliver. It's hardly going to result in the best work of their lives, work on which the client can make a critical business decision.
Earlier this year I worked on a pitch where most of the team left the building at midnight the night before and had to present themselves two hours drive away at 10am the next morning for the meeting-before-the-meeting. Below accurately represents the scene in the nearest (licensed, obviously) café to the pitch room, straight afterwards: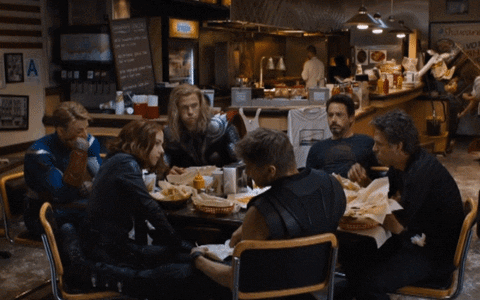 There has to be a better way. If the clients won't change, agencies will have to make them by refusing to play the pitching game. The industry is getting a reputation for poor work/life balance and if the brightest grads, smartest account handlers and most talented designers move away searching for better work/life balance, then the quality of the work suffers – and marketing is already on it's way to losing its seat at the boardroom table (but that's a whole other blog).